Hello again, hope your guys month has been going alright. Recently I did a collab for Pico Day hosted by @RGPAnims called FulpWare.
I said to myself that I wasn't going to do anything Pico Day related this year, but I guess my fuckin' hand slipped! It was really fun to get to do a collab thats original in concept while also celebrating the properties prominently featured. I'm glad I snatched Salad Fingers before someone else hehe. Shoutsout to @ProsciuttoMan for doing a small micrograme of Dr. Rock, which you can see linked below.
https://twitter.com/Prosciutto_Man/status/1536038301467136005?s=20&t=S9KwJToPesi9qBL7aM8rbg
Speaking of @ProsciuttoMan, me, him, and others made a cartoon called The Startingly-Impressive Gun-Man. It was cool to work with character designs as unique as these with an animation style loose-enough to be considered charming. I'm looking forward to his future projects, and think hes a unique voice among the bunch.
After FulpWare released, I was bombarded with an influx of followers as a result of the collabs smash success among audiences. To that, I say thank you! I understand that me being apart of the collab gave me a lot of followers purely out of association, but I thank @RGPAnims for giving me the opportunity to be apart of one of the websites most popular collabs of all time and to be able to pay homage to one of my biggest influences. So thank you for the memories, and thank you for 800 followers. It really means the world.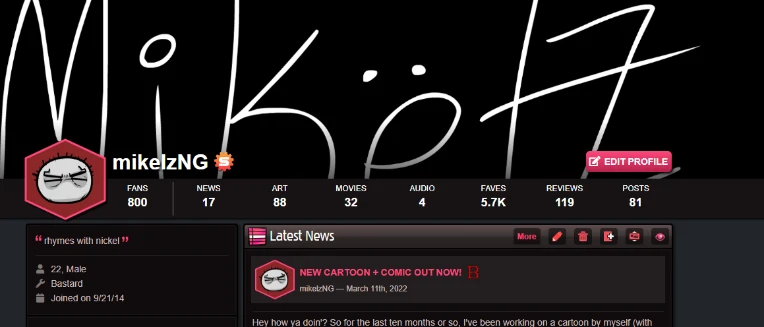 As for general updates, I've been tied up with real life shit mostly. I'm not going to bore you with the details, but right now I'm focusing on a couple passion projects. One of them being a cartoon I've been working on since 2019, and the other being a possible documentary project separate from Newgrounds as a whole. I will release details when I'm far along to show anything off, but for now you'll just have to keep your eyes peeled for the moment!
Don't Trip,
-- MIKEL